Cost Efficient and Powerful IT Virtualization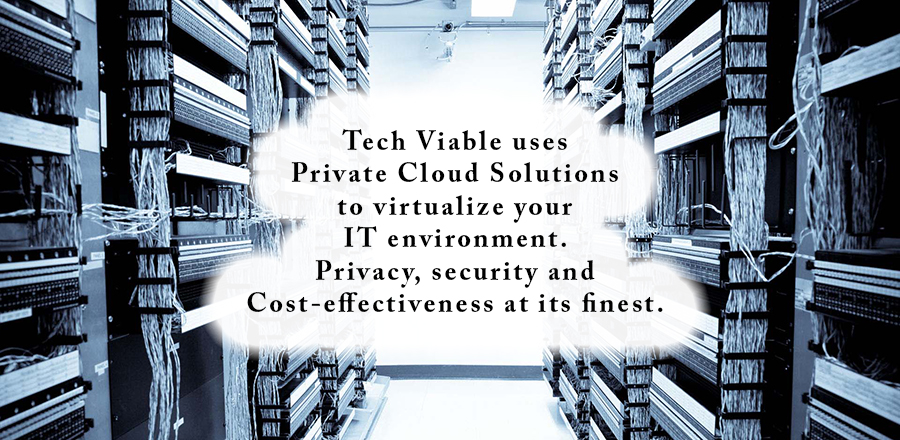 Is your IT Department overcrowded with a mess of server racks using all your space, time and money? Are there machines that aren't using their full capacity but only a small fraction of their processing capability? Tech Viables virtualization Services eliminate the one-application/one-server platform model and allows you to utilize better capacity and lower datacenter costs with the appropriate  power and labor savings.
Server IT Virtualization utilizes software to divide one physical server into multiple virtual servers or "guests" . These guest run on a virtual imitation of the hardware layer.
Storage IT Virtualization is a type of virtualization that typically consists of multiple servers sharing a single or multiple storage devices which in turn allow for a much more efficient centralization of your resources. Your data is stored in "pools" that may be made up of several disk arrays rather than on specific drives in specific arrays.
Client IT Virtualization helps you reduce desktop management staffing costs and application virtualization, which simplifies application migration and lets users anywhere access your key applications without having individual software installations. Ease of management and data security are the main issues driving client virtualization.
Benefits
Regardless of your IT Virtualization implementation, you'll achieve much better security due to sensitive data being kept separate from end-user data, even though the data resides on the same physical machine. In general, you'll experience the following benefits of IT Virtualization:
Improved overall usage with servers and storage
More efficient use of capacity
Accommodated growth
Improved performance
Reduced sprawl
Improved ROI
Ease of management
Reduced costs now and into the future
Faster provisioning of new applications
What is Tech Viables Desktop IT Virtualization?
Our Desktop IT Virtualization services are a set of mainstream technologies that optimize the delivery of desktops, applications and data to users. The operating system, apps and data are disconnected from the underlying PC hardware and plugged into the datacenter, where they can be centrally managed and secured. Instead of juggling thousands of static desktop images, IT can manage and update the OS and apps once, from one location, then deliver desktops and apps that are customized to meet the performance, security and mobility requirements of each individual user.
A few good choices for IT Virtualization
XenDesktop
XenDesktop is a comprehensive desktop virtualization solution that includes all the capabilities required to deliver desktops, apps and data securely to every user in your enterprise. It is trusted by the world's largest organizations and has won numerous awards for its leading-edge technology and strategic approach to desktop virtualization. Xen Desktop helps businesses:
Enable virtual workstyles to increase workforce productivity from anywhere
Leverage the latest mobile devices to drive innovation throughout the business
Rapidly adapt to change with fast, flexible desktop and app delivery for offshoring, M&A, branch expansion and other initiatives
Transform desktop computing with centralized delivery, management and security
Citrix desktops and apps on-demand
Citrix XenDesktop is a desktop virtualization solution that transforms Windows desktops and applications into an on-demand service available to any user, anywhere, on any device. With XenDesktop, you can securely deliver individual Windows, web and SaaS applications, or full virtual desktops, to PCs, Macs, tablets, smartphones, laptops and thin clients—all with a high-definition user experience.
Vmware Desktop IT Virtualization Solutions
Increase profitability by driving down costs, reducing risk and improving workplace productivity with VMware's End User Computing solutions. These solutions that leverage Horizon View, Horizon Mirage and Horizon Workspace, allow you to create a more agile and secure business IT infrastructure so you can quickly respond to changing business and end user needs.
Enhance user access with the mobile secure workplace
Drive higher SLAs at lower costs with the business process desktop
Centralize IT management with the branch office desktop
Constant availability to critical applications and data with alwayson desktop
OpenVZ IT Virtualization
OpenVZ is container-based virtualization for Linux. OpenVZ creates multiple secure, isolated Linux containers (otherwise known as VEs or VPSs) on a single physical server enabling better server utilization and ensuring that applications do not conflict. Each container performs and executes exactly like a stand-alone server; a container can be rebooted independently and have root access, users, IP addresses, memory, processes, files, applications, system libraries and configuration files. For more information about the technology and how it differs from the others like Xen, VMware etc., see introduction to virtualization, doc/openvz-intro.pdf  or wikipedia:OpenVZ. OpenVZ software consists of an optional custom Linux kernel and command-line tools (mainly vzctl). OpenVZ groups kernel developers work hard to merge containers functionality into the upstream Linux kernel, making OpenVZ team the biggest contributor to Linux Containers (LXC) kernel, with features such as PID and network namespaces, memory controller, checkpoint-restore (see CRIU.org) and much more. OpenVZ tools (vzctl) is a solid alternative to LXC tools, see vzctl for upstream kernel for more details. While OpenVZ can be used with recent upstream kernel, we recommend using OpenVZ kernel for security, stability and features.
Opscode Chef IT Virtulization
Chef is an automation platform that transforms infrastructure into code. Stop thinking in terms of physical and virtual servers. With Chef, your real asset is the code that brings those servers and the services they provide to life. An automated infrastructure can accelerate your time to market, help you manage scale and complexity, and safeguard your systems. Whether your network is in the cloud, on-site, or a hybrid, Chef can automate how you configure, deploy and scale your servers and applications, whether you manage 5 servers, 5,000 servers or 500,000 servers. It's no wonder that Chef has been chosen by companies like Facebook and Amazon for mission-critical challenges. Use Chef to quickly deliver products and services and adapt to shifts in the market. Automation means that you can set up your infrastructure and be ready to deploy new features in minutes rather than days.
Going Green
IT Virtualization should also be at the top of your IT list if you're trying to make headway towards greener initiatives. Underutilized server capacity produces tons of CO2 per year and wastes money. In fact, some industry figures show that you can save up to 80% in energy infrastructure costs with virtualization.
Lets Start Saving
Contact Tech Viable today about IT virtualizing your IT environment. We'll help evaluate your current workloads to determine what form of virtualization would best help you. We'll then migrate your existing servers to a new IT Virtualization environment, leveraging existing IT equipment and resources.
Cloud Storage Solutions
Tech Viable utilizes a supported opensource cloud storage solution that provide a better security infrastructure than most proprietary service providers.
Let us know if you are interested and we will happily provide you additional details.
Contact Us to see how we can keep your Data Storage free and clear of anyone's snooping, including "uncle sam".