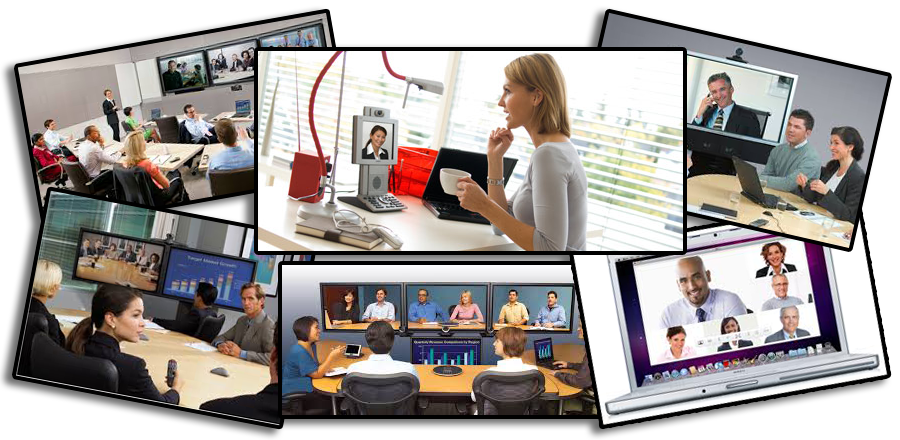 Videoconferencing which is a type of "groupware", is the action of performing  a videoconference through a set of telecommunication technologies which allow two or more locations to communicate simultaneously through two-way video and audio transmissions.
By reducing the need to travel to bring people together web and videoconferencing saves time and cuts costs on travel, and general cola for non locale hosts and guests alike.
Needing a videoconferencing solution to stay connected with your branch offices, team, shareholders, or clients? Tech Viable has a solution for you that will keep everyone communicating efficiently, quickly, and happily.
Whether you are looking for on site solution, offsite, or hosted with vendor elsewhere…with our large selection of videoconferencing services and technologies we can provide you what you need.
Point to Point: Videophone hardware brands for person-to-person
Stand-alone videophones are point-to-point units not employing Multipoint Control Units also known as centralized distribution and call management systems.
ACN: IRIS
AddPac : VP-300, VP-500, Video Phones
Avaya : Scopia Video Conference Systems
AVer Information: HVC130
D-Link: DVC series
HP: Halo Telepresence Solutions
Leadtek: IP broadband videophone
LifeSize: LifeSize Passport Connect, LifeSize Passport & LifeSize Express
LG-Nortel: LVP series PSTN, ISDN and IP videophones
Polycom: VVX1500 and VVX500 Business media phones
Red Embedded Systems: TVPhone (United Kingdom)
Tandberg: E20
Telio: Telio videotelefon IP3870
Worldgate: Ojo PVP series
Videoconferencing and telepresence hardware systems used for multiple participants
These Video conferencing systems allow multiple participants by use of a Multipoint Control Unit unlike the point to point. Please note that some multiple party systems utilize Web-based bridging service providers, which can incur slight time delays.
AddPac: VC series, HVC series systems
Aethra: X-Line series
Audisoft Technologies : Frontline HD, Fronline Communicator FC03
Avaya: (Radvision) Scopia systems
AVer Information: HVC330, H300
BrightCom: Lumina Telepresence
Cisco Systems: Cisco TelePresence
HP: Halo
IOCOM: Visimeet
LG-Nortel: LVP series PSTN, ISDN and IP videophones
Librestream: Onsight
LifeSize: LifeSize Team, LifeSize Room & LifeSize Conference
Magor: HD-Duo, HD-Trio
Panasonic: VC500
Polycom: RPX, OTX, ATX, HDX, VSX series
Polycom: VVX
Sony: PCS systems
Tandberg: T3 Telepresence
TrueConf: TrueConf Terminal (Russia)
VeaMea: VeaMea Streaming Server & VeaMeaUC
Vidyo: VidyoRoom & VidyoDesktop
 Videoconferencing hardware systems meant for the deaf, hard-of-hearing, telemedical and other institutional services
Audisoft Technologies : Frontline HD, Fronline Communicator FC03, AudiSee, Audisoft Medical Cart
IOCOM: Visimeet
IVèS: Total conversation solution (video, voice and real-time text) for Video Relay Services (VRS), Video Remote Interpreting (VRI), Text Relay and telemedecine.
Librestream: Onsight
Mirial s.u.r.l.: PSE Video Contact Center, comprehensive solution for remote audio and video contact services
Polycom: Practitioner Cart, HDX Immersive Telemedicine Education systems
VeaMea
Videoconference bridging service providers
BT Conferencing: (NA, APAC, EMEA)
ACT Conferencing: (APAC, EMEA, NA)
CoroWare Inc.: CoroCall HD Video Conferencing Service
VeaMea
CBCI Telecom
Webcam hardware brands for use on personal computers Apple: iSight series/components
BrightCom: ClearView PC series
Creative: Live! Cam series
FaceVsion: TouchCam
Genius
Hama CM Series, plus other various models
Hercules: Dualpix
Labtec: Labtec WebCam Series
Lenovo: Webcam
Logitech: QuickCam series
Linksys by Cisco
Microsoft: LifeCam Series
Philips: SPC Webcam Series Samsung
Sony: PlayStation EYE webcamera
Trust: WB Series, plus various other models
Software clients –general brands
AccuConference: Video, Web, Audio Conferencing
Adobe Systems: Adobe Connect
Audisoft Technologies : Àudisoft Expert, Fronline Central, Frontline PC
Avaya: Scopia Desktop and Mobile clients
Bistri: One-click Video Chat
BrightCom: Visual Collaboration System – VCS
Cisco: WebEx
Cisco: Jabber
CloudVisit Telemedicine: CloudVisit™ Psychiatry
Glance Networks
GoToMeeting: HD Faces
InterCall
IOCOM: Visimeet
IVèS: Live Video Plugin
iWowWe: Video Conferencing Suite
Librestream: Onsight Expert Collaboration Software
LifeSize: Desktop
MegaMeeting
Microsoft: NetMeeting
Microsoft: Office Live Meeting
Mirial s.u.r.l.: Mirial Softphone
Nefsis: Nefsis Professional
ooVoo: ooVoo (only for Windows or Mac)
PGi: iMeet and GlobalMeet
Polycom: M100 & PVX
Radvision: MTF, VTA & IMS Applications
Revation Systems: Revation Communicator
SightSpeed: Video Chat
Skype
Stickam
Tandberg: Movi
TeamViewer
Tokbox
TrueConf: TrueConf Server, TrueConf Online
VeaMea: VeaMeaUC
VideoMost: VideoMost
Vidyo: VidyoConferencing
VSee
vzRoom
 Free Software clients for instant messaging video programs
AOL Instant Messenger (AIM)
Camfrog
CU-SeeMe
Ekiga
FilmOn
Gmail
Google Talk
iCall
iChat
IOCOM: Visimeet
MeBeam
Meetings.io
Microsoft: Windows Live Messenger
Microsoft: Windows Live Video Messages
ooVoo
Paltalk (now PaltalkScene)
SightSpeed
Skype
Stickam
Tinychat
TrueConf
Tokbox
Yahoo! Messenger
Software clients for deaf and hard-of-hearing VRS/VRI facilities
IVèS: Live Video Plugin
Mirial s.u.r.l.: Mirial Softphone
Server Software
BrightCom: Visual Collaboration System
GNU Gatekeeper
IOCOM: Visimeet
IVèS  : Total conversation cloud
Mirial s.u.r.l.: ClearSea
VeaMea