Remote IT Solutions to make things easier…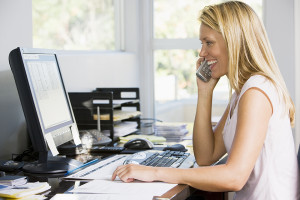 All Business is reliant upon technology for everyday functions. This is especially true as a nation ever more so dependent upon constantly changing technology.  Everyone has been in situations where downtime has lost hundreds if not thousands in revenue in cases where it could have been avoided. Its painful to be forced to turn paying customers away in a tough economy and it is a nightmare for all business owners.  Outages whether network or server or work desktop related,  can be detrimental to your business and can greatly impact your bottom line.
Instead of suffering at every computer glitch or IT issue that occurs while your trying to run your business, you can rest confidently knowing you will receive the support you need from Tech Viables Remote IT Solutions.
We can save you the cost of  an onsite or in house staffed IT department.  Since our staff  performs all work from a remote location, you can save tremendous costs associated with the time and management required to handle your own IT ventures.  Our technical experts are just a email, chat, or phone call away for 24-7 remote IT Support of any non-hardware related issues. Keep in mind that for those cases where we need to be on-site for special issues, we are still here for you and are more than able to meet your needs.
For Business and Home IT issues, all it takes is a phone and internet connection for one of our experienced technicians to simply and remotely access your systems and perform emergency repairs, virus/spyware removal, routine check-ups and more.
Our Remote IT solutions include Software installations, training, and general management, with a custom personalized touch that fits your home or business needs.
Your network and servers are down, and you've had your IT tech team working hard on getting it back up for hours while in the mean time there are several other IT projects and IT issues that still need to be resolved…
Maybe you have seen this before or have experienced such IT woes in the past. Lucky for you, a one stop IT solution that is affordable, cost-effective and convenient is right here with Tech Viable Remote IT Solutions.
Tech Viable utilizes LabTech Remote Monitoring and Management to keep all your systems in the green while providing an excellent solution to downtime, cost-ineffective IT issues and general IT needs.
When Utilizing Tech Viables Remote IT Services, you can expect:
Remote Extensive Services – we can help you with every IT service you need, from remote viral protection to server and desktop support, and network management. Basically, I full IT support solution.
Cost-effective and Affordable – Tech Viables Remote IT Solutions's offer fully customized services and solutions to exactly what you need, at a cost that none can match.
More time – with your IT team less occupied with basic maintenance and management, they can focus on more profitable and lengthier assignments
Less IT and More Business – Want less to do with IT and more to do with your business? Tech Viable will easily handle all you IT needs so you can focus on running your business without the hassle of in house IT management.
Remote Managed IT Solutions include but are not limited too:
Remote Control
Tech Viable can remotely oversee and manage workstations, servers,routers, printers and other network devices over the Internet without end-user interruption.
IT Asset Management
Tech Viable can compile data, audit and manage workstations, servers,printers, routers and mobile devices. Group by OS,application or location, and provide the data at request any time.
Software Deployment
Tech Viable can deploy software and services to one device, a group of devices or to one or multiple locations without business disruption to clients.
Mobile Device Management
Tech Viable can manage Apple iOS® and Android™ platform mobile devices with easy and secure enrollment, configuration, monitoring and reporting functions.
Windows, Mac and Linux Management
Tech Viable can deploy Windows, Mac and Linux agents for on boarding, role detection and critical service level monitoring for servers.
Mobile Access Management
Tech Viable can provide remote support on Mobile Devices, for Windows® Mobile 6.5, Android, iPhone and iPad devices.
Network Monitoring
Tech Viable can discover, manage and control critical items in your infrastructure through powerful monitors and scripts.
Multivendor Antivirus Management 
Tech Viable can manage multiple antivirus vendors from a "single-pane of-glass" for added control and visibility of your environments.
Multivendor Backup Management 
Tech Viable can manage data protection environments from multiple backup and storage vendors as well as  from multiple locations.
Controlled Patch Management
Tech Viable can identify, approve, update or ignore patches and hot fixes for one or multiple devices.
Professional Services Automation (PSA) Integration
Tech Viable can manage your current tickets and billing by integrating with your current in house PSA systems, such as Autotask, ConnectWise or Tigerpaw PSA solutions. Experience enhanced integration with the Autotask Plug-in 6.0 and the ConnectWise Plug-in 6.0.
Managed Help Desk Ticketing
Tech Viable can manage and prioritize your help desk requests for quick and efficient remote support to any system within Windows, Mac or Linux LAN and web-based environments.
IT Marketplace Solutions
Benefit from the exchange of technical and practical information—scripts, monitors, plug-ins, integration's, IT implementation tools.