Loving that secondary market for used cloud servers
Every so often Google , Amazon and various other entities that utilize large data warehouses will have their Hardware vendor  often go through inventory to see whats needs to be replaced.
Lucky for us smaller guys, that inventory is often put onto the secondary market where "Buyers" then purchase Huge Crates full of the "older equipment" to sell to the secondary market. That older equipment might be only a few years old depending on when it was yanked from Google, Amazon, etc…by the hardware vendor that supplies them ( Dell, HP, etc).
This hardware is often stored in large warehouses where it is auctioned off to "Buyers" within the secondary market. Once these awesome hardware products hit the secondary market ( to Dells and HPs displeasure) these server are often sold to anyone on places like eBay, Amazon and various 3rd party vendors found on a Google search.
The Great Deal about these secondary market servers, is the affordability for HUGE power and versatility.
The Dell C6100 Server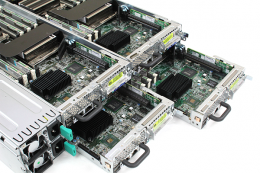 Currently our spot light is on the Dell Poweredge C6100 and C61045. This cloud server is certainly a powerhouse of a server that easily handles any small to medium business applications whether in your home or office. With some good IT sense you can run from your own home basement for any needs you might have.
To give you a good idea, one of our clients currently has one running in his basement utilizing at most 140 watts running only 1 node of this 4 node server. This is cheaper energy-wise than most desktops and some laptops in many cases. 1 node holds roughly dual 6-core CPUs and up to 192 gigabytes of ram (theoretically using 16GB sticks of ram).
The technology in general is considered "old" by data warehouse standards, but then again most small and medium business wouldn't be able to fully utilize the power of this particular server anyways.
At brand new and fully decked out with all the latest in Ram, CPUs, Hard Drives, etc…  a server like this would go for around $20,000 back in its prime. However now you can pick them up used for roughly $1000 on ebay and various sellers found on Google with minimum specifications.
What Dell Thinks of these servers in our hands
Dell of course doesn't want this server in your hands because they can charge higher prices for something brand new with only a Fraction of the power and utility than what you would find in this server. We found this to be the case during an interesting phone call to Dell supports specialized group ( The Dell DCS team) who manages these servers for entities like Google and Amazon.
Other Concerns
Like putting a coin into a gumball machine… often you will never know what "Flavor" of this server you will get from the seller. Often times DCS models which are specialized and used for specific previous clients of Dells will be sold to you. The Difference between a C6100 DCS model and a C6100 XS23-TY3 model is simply that the XS23-TY3 can be updated on its firmware in various places, while the DCS model is "what you see is what you get".
Although this is the case, Both models are more than enough for what you need typically for small and medium business applications.
If you are an enterprise entity looking to save a few bucks while utilizing awesome computing power…. These can easily be clustered, and buying in large quantities doesn't hurt to meet your needs either.
Additional Resources and Reading
For an excellent resource all additional reading and specifications be sure to check out Serve the Home as they have a great forum and all the specifications you would need.